Tullibody MCPs Meet Local MSP
Keira, Dan and Cian Shared Calls to Action
Keira, Dan and Cian are all in P7 at a school in Tullibody in Clackmannanshire. The three children met with Mark Ruskell MSP – one of the representatives for their region in the Scottish Parliament – to talk to him about their concerns for the climate and what they'd like to see being done. Mark came and sat down with the children in their school to hear their calls to action. 
The children were particularly interested in planting trees as a way to both tackle climate change and make their local area nicer. "It's a waste of land if nothing's happening with it," Dan explained. They were keen to see more trees in their local park. Keira pointed out that "you have to ask the community first." 
Mark explained to the children that around Scotland there are communities who are trying to take control of land to put it to use that serves the community, including for projects like tree planting and how they might be able to talk to a local community council about their ideas for local tree planting. The children talked about the different ways that land is used and thought about what could be done to make sure enough trees are planted, including talking to people who own lots of land about how their land is used. 
Dan shared an idea for including children in these decisions on councils too: "Everyone in the community, including children, should be given a vote on how the land is used."
Keira also had a powerful message to adults: "It's for future generations as well. And we could be the last generation to stop it."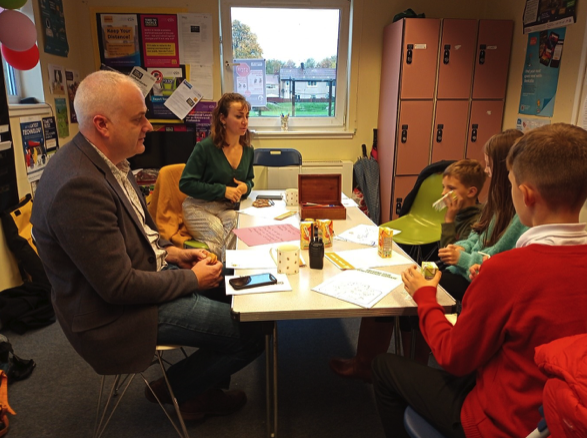 Before joining some of their classmates to share some more of the climate wishes, the MCPs heard from Mark about what he planned to do next. He explained that he was keen to keep the conversation going and would be happy to support the children if they wanted to try to launch a local tree planting initiative. 
His closing note to the children was that "I'm going to remember this conversation and think about just how important it is that communities are in involved in that as well, and use this as an example. … It doesn't have to be about stopping doing things that let people have a good quality of life. What you were talking about is about making Tullibody a better place while also tackling climate change. Your ideas can make people's lives easier, rather than harder."
The main Calls to Action to come out of the surgery were:
Plant more trees! 
Let communities decide how to use land in their local area 
Let children have a vote on things in their local area 
More recyclable items made available to everyone
Electric cars should be cheaper so more people can buy them 
Make buses electric 
We should make more windmills 
While Dan, Keira and Cian spoke to Mark about their Calls to Action, another group of children from P6 and P7 (Katie-Leigh, Chelsey, Zara, Daniel, Hallie and Calleigh) made a tree of their climate wishes.
They shared their wishing tree with Mark, who ended the day by adding his own.